Surprise!! A third post for my fellow foodie followers!!! I am avoiding packing the condo for moving in three weeks! haha! so I figured what's the best procrastination ….. write another food blog!!! I also made a really amazing dinner this week for me and my very good friend Toni; and I needed to share it!
These Tacos are the BOMB!!! No joking around though, this Awesome sauce has got some Heat ya'll! So be CAUTIOUS I'm dropping the word now…
S.P.I.C.Y!
I think this Awesome sauce is seriously the key to making these tacos so freakin' yummy! Its sweet from the pineapple and mango and spicy from the roasted Habanero! It's such a great combination!
When I go out to eat (which is not very often, honestly) I really like to order things that have contrast to the taste buds and things that I don't make at home very often.  With this recipe it was really about finding that contrast for the taste buds. I knew I had nailed it when "contrast" came out of her mouth! Exactly what I was going for!
In the words of Emeril Lagasse…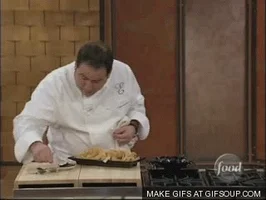 BAM!
So now that I finished bragging about how great I did, let's get down to Business… and give you this recipe!
First… Lets make some Awesome Sauce!
What you need:
1 cup mixed Frozen Mango & Pineapple (yes Frozen… I'll explain why later)
2 yellow bell peppers cut into chunks
3/4 cup rough chopped onion
6-8 roma grape tomatoes (seeds removed)
1 fat clove of garlic
2 habanero peppers seeded and cut in half
(wash your hands REALLY well after and or wear gloves… habanero has a lingering heat that can tingle a little) 
2 tbsp Extra virgin olive oil
Salt & pepper to taste *Optional 
(I actually didn't add any because I'm watching my salt)
1/2 cup vegetable broth
What you do:
Oven temp should be on Broil
On a non stick sheet pan toss your peppers, onions, garlic and habaneros in a little oil and S&P and broil for about 10-12 minutes
Remove from oven and let cool a few minutes before removing some (not all) of the charred pepper skins (you want a little charred skin to enhance the deep smokey flavour in this sauce)
In a blender (I used my magic bullet) combine the roasted veggies with the frozen mango, pineapple and the vegetable broth – combine until you have a smooth sauce consistency.
*TIP – The reason for frozen mango and pineapple is it helps with the structure of the sauce, you are going to get a smooth taste of both fruits, as well as it will help bring your sauce down in temperature quicker 
place in a seal tight container and refrigerate until ready to use
OMG! Mouth is watering just looking at this picture. How sexy is this sauce. LOL I know, that was weird… but I love how creative you can get with your food and the bright colours and textures and … I could go on and on…..haha clearly — I have a love for food.
Any ways… It looks SO good… so here – Click on this below… and you can Make it too!
Now that we have this killer sauce…. we need to make something for this sauce to go on!
Coconut Shrimp Taco Time!
What you need:
1 300g bag frozen pre-cooked shrimp fairly thawed

This stuff is killer for any Fish, shrimp, chicken or pork taco night…

1 1/4 cup panko crumbs
1 cup shredded sweetened coconut
1 tbsp paprika
1 tsp garlic powder
2 large eggs
Salt & pepper
1/2 cup coconut oil
10 flour tortillas
1/2 package of Kale Slaw Mix  – See Picture ->
Avocado Crema (Blend until smooth)

1 avocado
1/ 4 cup white onion (roasted if you make extra with sauce)
1 fat roasted garlic clove
Juice of one lime
1/2 cup sour cream

Awesome Sauce
Fresh Cilantro for garnish *Optional
What you do:
Remove shells and de vein (if needed) your shrimp
Mix panko crumbs, coconut, paprika and garlic powder in a bowl
*TIP – I get my hands right in there and massage the ingredients together – it breaks down that the panko crumbs and brings out the aromatics of the coconut
In another bowl beat your eggs with a little S&P
In a large skillet on high heat melt your coconut oil
Get your breading station ready beside your stove, you are going to go:

Shrimp to egg – coat well
Eggy shrimp to panko mix and press evenly
From the panko into the hot oil skillet

Cook shrimp until browned (do not move until your ready to flip to the other side) the second side will cook faster than the first so keep an eye that they don't burn
remove fried shrimp to plate, and serve immediately
Serves about 8-10 tacos
* Tip – Keep the oven on broil after your done the sauce, so when you finish the shrimp you can toss the tortillas in the oven and get a nice little charred colouring to your tortillas… just do not leave the oven – these will take 30 seconds so make sure you stay in view so you can get them out quick 
* Tip – Use lettuce wraps instead of tortillas… works just as good and its even healthier this way!
Assemble your taco however you wish… Taco making is an art of its own, and there is so many different ways to make your taco… so have some fun with it!
Print  Below
Hope you enjoy this one!
I think this one is award winning!!!
Brittany